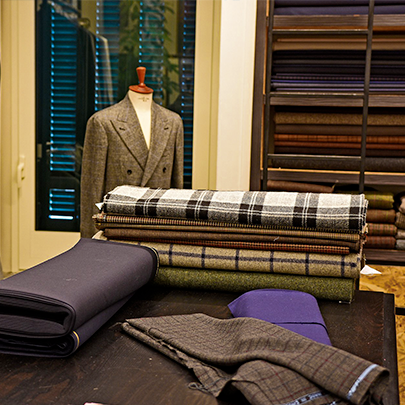 In his shop overlooking via Caracciolo, Luigi Dalcuore takes his client's measurements and coordinates the activity of the seamsters with the same meticulous carefulness of the first day.
All you need, to understand a man, is to pay attention to the story told by his attire. To read a tailor, you must look at his atelier.
All tailor shops are different, as they display the world that each and every artisan creates for himself. Luigi Dalcuore's, with its huge windows just steps away from the sea of Mergellina, is bright, creative, generous in space and original in décors.
Certain areas are cluttered of incoming or outgoing packages, others are as tidy as the National Archive. The man to create all of this was not on his own, His daughter Cristina and son in law Damiano have been walking beside him for many years now, ensuring the continuity of this endeavour of research, precision, simplicity, and coherence.
Walking into the wide lounge your nostrils are hit by a delightfully neapolitan but in the meantime international air, just like the garments that are born inside those spaces.