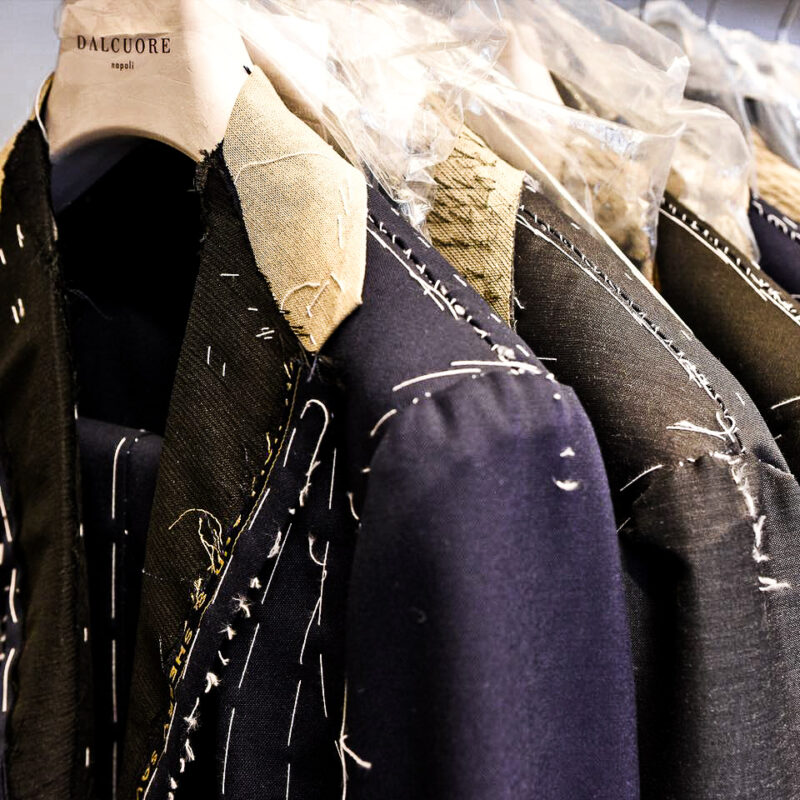 A bespoke suit demands time and attention both on behalf the tailor and of the client. In over half a century of activity the Dalcuore family put together its own modus operandi.
The choice of fabric
All of the world's wardrobes are arranged by seasons, so the first thing to ask a client is what time of year is he picturing his garment for. Though air conditioning today allows us to wear similar textiles throughout the year, seasonality isn't just about weight. Weave, brilliance, density, color, dimensionality and other details through which Cristina can come up with solutions that are full of personality yet never lacking comfort, matter just as much. Next we move on to occasion: work, travel or leisure, in a menswear mindset translate to: formal, casual or sportswear. At this stage we have a range of fabrics that are all virtually feasible, among which the client can choose the one more suited for his personal style, confident he won't fall into error.
Measurement
Alongside measurements Luigi and Cristina take notes of peculiar aspects of the frame and posture that will be taken into consideration during the cutting, crafting and sewing. A suit that fits like a glove doesn't just come out of a blueprint, it mostly originates from observation, experience and the ability to transform a one-dimensional material like fabric in an architecture of complex, ever moving volumes.
chalking and cutting
Weather a single or double breasted coat, and bearing in mind the number of buttons, width of the collar and overall length, the tailor draws, with chalk and a ruler, the lines along which he will cut. In authentic bespoke tailoring, at this point of the process each jacket or coat starts in it's very own way.
Adding sleeves and collar
This is indeed the hardest part of the craftsmanship, where expertise and manual skills are as vital as they would be in surgery.
Fittings
The first fitting takes place when the garment is only basted and doesn't have a lining. Once the main alterations are made, a second fitting is necessary to fine tune the waistline and shoulder point and throw in a couple millimeters for construction, serving the purpose of balancing front and back.
Ironing
The ironing, achieved with a heavy flatiron specific for tailoring, gives the fabric, that has been soaked before working on it, a finish that is equal or better than the one it began with. Moreover the process dignifies the suit enhancing the collar and shoulder line.
Buttons and buttonholes
The final touches adding to the personality of the garment are the embroidered buttonholes and the buttons, hand stitched to make sure they aren't too tightly attached to the fabric. They must stand up like mushrooms on grass, not rest like plates on a tablecloth.
The label
Among so many precious details, the last one is the label, hidden under the collar, on the outside of the jacket.